Piano works by Dmitriy Malikov

Music That Heals
Music That Heals

In the bustle and hustle of everyday life, it takes an effort to stop and listen to the gentle flow of music and to your own voice…Yet such effort is richly rewarded when you can feel the music respond to you, perhaps arousing an emotion that has been desperately missing. That's when you realize that the world is still filled with harmony, kindness, and love.

Buy the album Learn more

Worlds of Panacea

Fashion models clad in sixties-style outfits, young men in business suits tangled into a human ball and rolling on the pavement. And overseeing this surreal view was Dmitry Malikov, perched atop a bicycle. You might have noticed this bizarre spectacle during a video shoot featuring the new piano piece written by Malikov for his new album, "Panacea".

Buy the album Learn more

I am proud to present my new album "Panacea"

Dmitry Malikov will soon be releasing a new instrumental album, "Panacea". The world premier of his latest artistic work will take place on October 01 in Moscow, at the International Festival "Circle of Light". The guests of the evening will be treated to a solo piano performance by Dmitry, which will be accompanied by a unique light show performance created by the world's best young designers.

Buy the album Learn more
Throughout the creation of this album, I have strived to make it as light and airy as possible. That is why the pieces are not filled with the abundance of musical instruments, and instead feature the most important instrument of my life, the grand piano! I hope that through its vibrating strings you will feel the delicate strings of my soul, and through its beating mallets you will hear the sounds of my heart.
"Panacea" is a new album of piano music released by Dmitry Malikov as part of the "Pianomania" creative project. Each individual musical piece in the album helps the listener to release emotional stress, relax, and achieve inner harmony.
The album title and the concept of its design can be perceived as rather provocative. After all, Panacea is a Greek goddess of universal remedy. In ancient Greece, it was widely believed that music can create a certain mood and harmonize the state of mind. In fact, Pythagoras of Samos recommended music as a panacea for the ailing body and soul. Individual compositions that comprise the album have received unusual names. Together they form a small poem that places you in a special mood for the listening.
Dmitry had been working on the new creation for over a year. For the first time in his career, the recording of the album was done outside a professional studio, with Dmitry at home, playing his favorite Steinway D-274 grand piano.
Initial reviews reveal that the "musical medicine" created by Dmitry Malikov does not merely supply aesthetic pleasure. The music brings peace to one's soul, inner harmony, and an endless flow of positive energy. Follow the music, while focusing only on what is happening inside of you, and at some point you will feel that it leads you to this amazing bliss.
To experience the full magical effect of Dmitry's music by yourself, please take no less than two compositions a day.
Extras:
Dmitry Malikov website
Pianomania website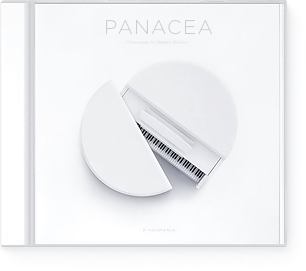 "Panacea" is the third album
released as part
of the Pianomania project
What was the inspiration for this album? Well, a couple of things, or more accurately, three things… First, my new grand piano; second, an unstoppable desire to compose; and third, perhaps the most important, the unrelenting demands from my fans to give them new music. Thank you very much for that!